2008 Hawker 750 | S/N HB-3 | N770GS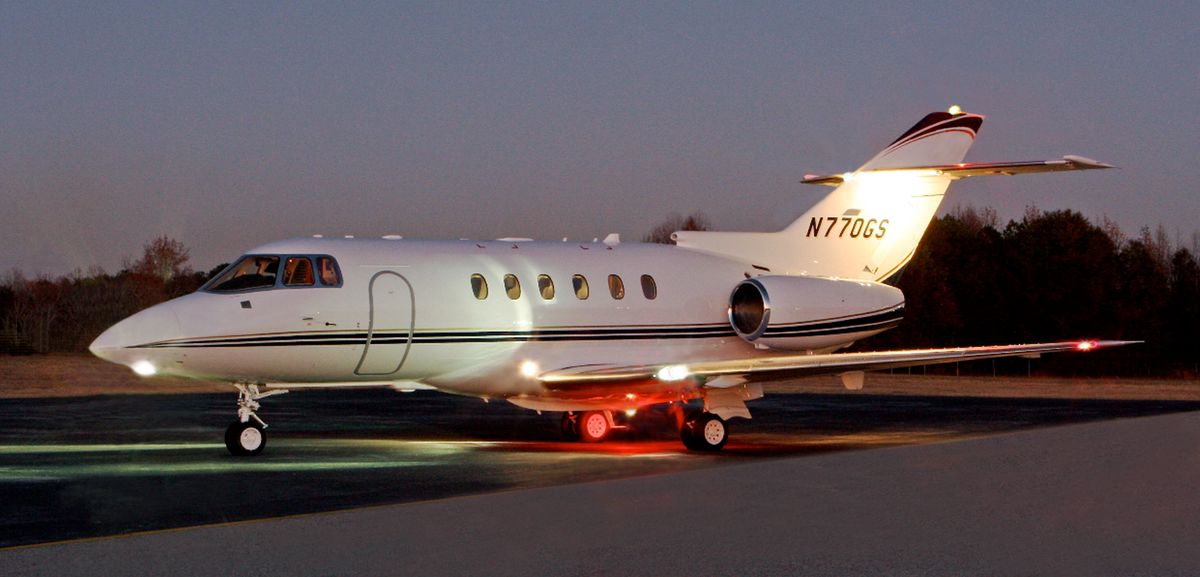 Aircraft Highlights:
· One Corporate U.S. Owner / One Crew Since New
· Engines & APU on MSP Gold
· Avionics on CASP
· Collins Modernization Package
· WAAS / LPV / ADS-B Out
· Synthetic Vision
· DBU-5000 Data Loaders
· Dual Collins HF-9000 with SELCAL
· Honeywell Solid State Flight Data Recorder
· Paperless Cockpit / Electronic Charts
· New Carpet & Sidewalls – June 2019
· No Known Damage History (Note: Tail cap replaced with new part due to lightning strike; logbook entry available upon request)
View / Download Spec In PDF Format
Sales Person Information
Contact: Brad Stancil +1 (317) 815-9403
Info@HolsteinAviation.com
Aircraft Details
Airframe Total Time (as of 2/4/2020):
1,172.7 Hours
1,087 Landings
Engine Total Time (as of 2/4/2020):
#1 - 1,172.7 Hours
1,087 Cycles
#2 - 1,172.7 Hours
1,087 Cycles
Honeywell TFE-5BR-1H Engines
APU Total Time (as of 2/4/2020):
1,437 Hours
Aircraft Inspection & Maintenance History
400 Hour Walk Around complied with @ 802.9 hours; next due @ 1202.9 hours
B1-B10 Inspection complied with @ 802.9 hours; next due @ 1602.9 hours
C1-C10 Inspection due @ 1600.0 hours
D1-D10 Inspection due @ 3200.0 hours
E1-E10 Inspection complied with July 2019; next due June 2020
F1-F10 Inspection complied with June 2018; next due May 2020
G 48 Month Inspection complied with June 2016; next due July 2020
48 Month Structurals complied with June 2016; next due July 2020
96 Month Structurals complied with June 2016; next due May 2024
15/18 Year 216 Month Inspection due May 2023
MLG Gear OVH due at 5000 landings; July 2020
LH & RH Engine MPI due @ 2100 engine hours
LH & RH Engine CZI due @ 4200 engine hours
Avionics
Collins Pro Line 21 Avionics
Dual Collins VHF-4000 Comms
Collins NAV-4000 VOR/LOC/GLS/ADF/Marker Beacon Receiver
Collins NAV-4500 VOR/LOC/GLS/Marker Beacon Receiver
Collins IFIS with single FSU-5010 File Server Unit
Collins GPS-4000A
Dual TDR-94D Enhanced Surveillance with Flight ID Diversity Transponders
Dual Collins DME-4000
Dual Collins AHC-3000 AHRS
Dual Collins ADC-3000 Air Data Computers
Collins FMS-6000 Flight Management Systems
Dual Collins CDU-6200 Control Display Units for FMS and Radio Control
Collins MDC-3110 Maintenance Diagnostics Computer
Dual Collins FGC-3000 Flight Guidance Computers
Universal CVR-120 with 2 hour recording capability
Collins TWR-850 Turbulence Weather Radar
Collins ALT-4000 Radio Altimeter
Collins TCAS-4000 TCAS II
Artex C406-N ELT
Honeywell Mark V EGPWS
Features and Options
XM Graphic Weather
Paperless Cockpit
Electronic Charts
Dual Collins HF-9000 HF Comm System with SELCAL
2nd Collins FMS-6000 FMS/GPS-4000A
2nd Graphical AFD-3010E Display and Cursor Control Panel CCP
Honeywell Solid State FDR (SSFDR)
2nd Collins ADF
High Intensity Radiated Field (HIRF) Kit
AirCell ST3100 Iridium Phone
Cabin Audio/Video Entertainment System
Airshow 410 System w/Flight Deck Controller
2nd 15" LCD Monitor
Power Outlet Package – 110
Enhanced Refreshment Center Package
Long Range Oxygen (2 x 750 ltr bottles)
Precise Flight Pulselite system with TCAS Interface
Cabin/Vestibule Hinged Door
Wood Veneer Sideledge in lieu of Leather
Additional Stowage Drawers under each Club Seat (4)
Drop Down Inboard Armrests (all individual chairs)
Belted Lavatory Seat
Protection Package – Additional Center Aisle Carpet, Set of Throw Rugs, Center Aisle
Maintenance Runner, and Threshold Carpet
Galley in accordance with design DWG #HB02-87
Galley mods – replace one Mapco with a hot cup. Remove can and other storage space
to the right of the Mapco, this area will be used for storage and will have a shelf. Metal-
work will be a "brushed" finish instead of "polished".
Two shipsets of five (5) cabin chairs and one (1) divan armrest cover
Portable oxygen bottle behind forward right hand bulkhead
Carpet edges finished with binding
Tie down straps for Medical Med Air kits (kit to be provided by customer). Medical Med Air Kit to be
located at the aft side of the forward bulkhead of the aft right hand closet.
Forward RH baggage with net/webbing fixed on forward side and curtain fixed on forward side
Galley Mod: top Kydex insert adjacent to microwave to divide for coffee stirs and creamer/sugar
packets
Three (3) extra seat belt extensions
Pyramid cabinet with can storage
Interior
Interior
New carpet and sidewalls - June 2019