1999 Astra SPX | S/N 105 | N585RL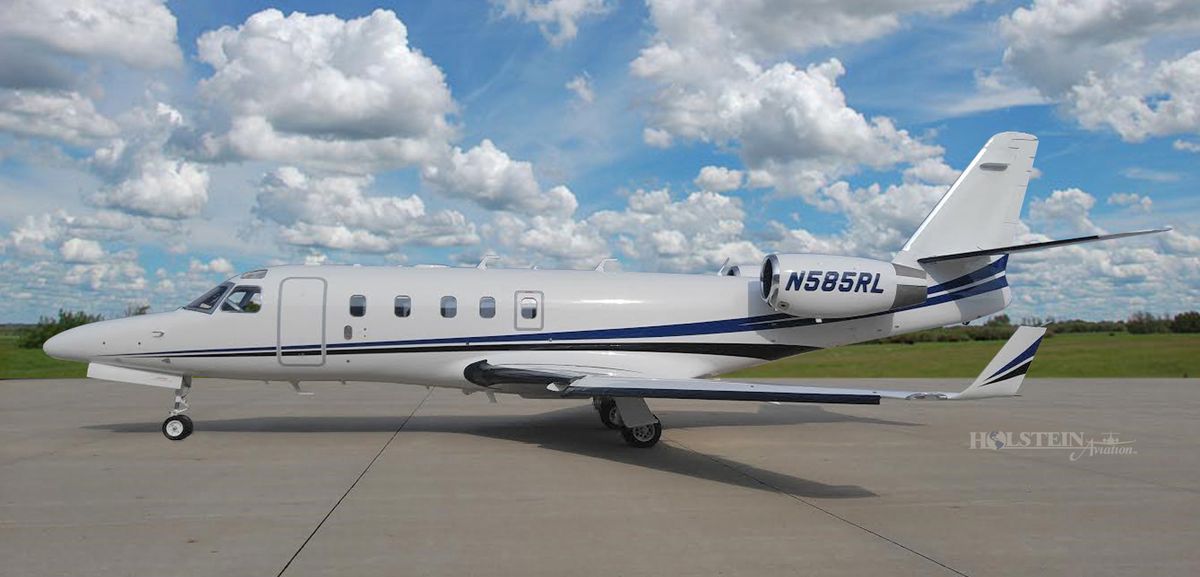 Aircraft Highlights
· 2020 Compliant
· ADS-B Out
· WAAS / LPV
· Gogo Biz ATG 2000 Internet
· PS Engineering PM 3000 Stereo Intercom
· Engines Enrolled on MSP Gold / APU on MSP
· New Paint 2017 by Duncan Aviation BTL / New Interior 2013
· Duncan Aviation Pre-Buy Fall 2016
· CAMP Maintenance Tracking
View / Download Our Spec Sheet For This Aircraft
Sales Person Information
Contact: Michael Gauvreau +1 (317) 815-9403
Info@HolsteinAviation.com
Aircraft Details
Airframe Total Time (as of 8/29/19):
4,908.9 Hours
3,866 Landings
Engine Total Time (as of 8/29/19):
#1 - 4,871.7 Hours
3,833 Cycles
140.3 Hours since MPI/CZI
#2 - 4,908.9 Hours
3,866 Cycles
32.1 Hours until MPI
91.1 Hours until CZI
Honeywell TFE731-40R Engines
Engines on MSP Gold
APU Total Time (as of 8/29/19):
2,435 Hours
Honeywell GTCP36-150 APU
APU on MSP
Aircraft Inspection & Maintenance History
A Inspection complied with @ 4711.0 hours; next due @ 4961.0 hours
B Inspection complied with @ 4460.9 hours; next due @ 4960.9 hours
C Inspection complied with @ 4460.9 hours/May 2016; next due @ 5460.9 hours/April 2020
LH Engine MPI complied with @ 4731.4 hours; next due @ 8231.4 hours
LH Engine CZI complied with @ 4731.4 hours; next due @ 11731.4 hours
RH Engine MPI complied with @ 2441.0 hours; next due @ 4941.0 hours
RH Engine CZI due @ 5000 hours
Avionics
Collins Pro Line 4 Avionics with 4-tube EFIS
Dual Collins VHF-422D VHF Communication System
Dual Collins VIR-432 Navigation System
Dual Collins DME-442 Distance Measuring Equipment
HF-9000 HF Communications System
Collins ADF-462 Automatic Direction Finder
Dual Universal UNS-1EW WAAS/LPV with GPS Flight Management System
Dual Collins TDR-94D Upgraded Transponders
Collins TWR-850 Weather Radar System
Collins ALT-55 Radio Altimeter System
Dual Collins ADS-850 Air Data System
Collins TCAS-94 TCAS II
Honeywell Mark V EGPWS
Collins FCC-4005 Autopilot/Flight Director
AlliedSignal AFIS Airborne Flight Information System
Collins FPA-80 Flight Profile Advisory
Motorola N1335C SELCAL
Universal CVR-120 Cockpit Voice Recorder
Dorne & Margolin ELT-14 Emergency Locator Transmitter
Features and Options
ADS-B Out
Gogo Biz ATG 2000 Internet
CAMP Maintenance Tracking
Interior & Exterior
Interior:
New Interior 2013. Rated 9/10. Seven (7) passenger interior configured with a forward facing seat located forward opposite a two-place side facing divan, and four individual seats in an aft club arrangement. All individual seats have swivel capability, forward, aft and lateral pedestal tracking with executive tables. An aft lavatory includes a belted seat. Passenger seating is completed in ivory leather and complimented with an off-white ultra-leather headliner and window line, textural ultra-leather lower sidewalls, and a taupe close-knit Berber carpet. Metal surfaces throughout the cabin are finished in polished gold. Cabin lighting includes LED indirect downwash lights. All cabinetry is Curly Maplewood veneer in a cherry stain high-gloss finish.
A Universal CD-2000 Airshow system provides passengers with aircraft position and flight data information on a 10.4" forward pull-out bulkhead monitor. Additional entertainment includes a VCR and CD player. Two (2) 110VAC cabin outlets provide electrical power.
The RH forward galley includes a coffee carafe, soda can storage, ice drawer, condiment and utensil drawer, trash container, and various general storage drawers.
Connectivity:
Gogo Biz ATG 2000 Internet
Exterior:
New paint by Duncan Aviation BTL 2017 (under warranty). Rated 9.5/10. Matterhorn White with Royal Blue and Gloss Black Stripes with Grey Emergency Markings.